What is CSHT?
We are a group of occupational and physical therapists with a special interest in the rehabilitation of the upper extremity.
We are dedicated to the enhancement of upper extremity rehabilitation within Canada through the promotion of quality of care, education and information sharing.
---
Seeking new executive!
Nominations have now closed for the 2021 - 2024 CSHT Executive.
Voting will occur at the Annual General Meeting being held virtually June 19, 2021 1:00 EST.
---
CSHT Annual Conference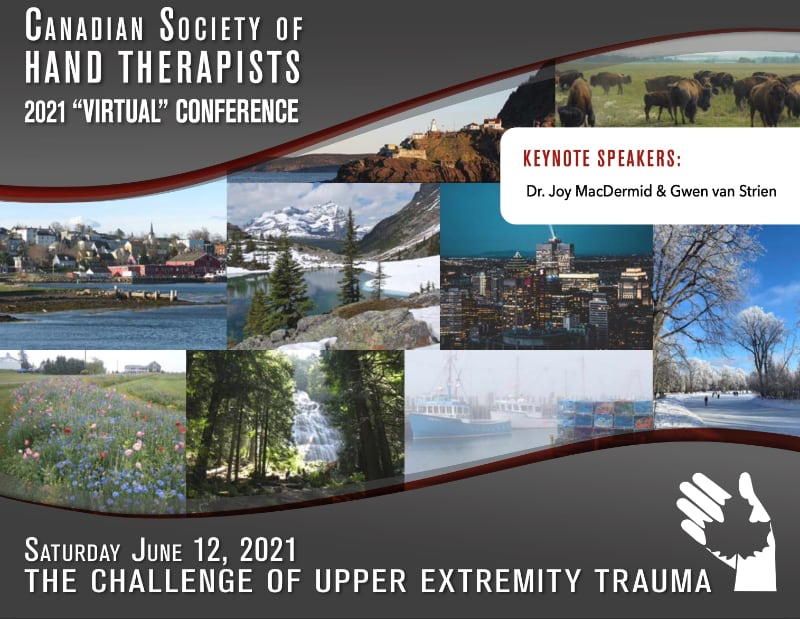 Save the Date! We're Going Virtual for the 2021 CSHT Conference.
June 12, 2021.

Register Now
Early bird extended!
---
CSHT Annual General Meeting
Save the Date
The 2021 CSHT Annual General meeting will be held virtually on Saturday June 19th at 12:00 noon, Eastern Daylight time. This time slot will allow members from coast to coast to be in attendance. Further details will be circuited via an e-blast to the membership in the coming weeks.
---
Newsletter Sneak Peek
Spring 2021 In Hand Newsletter
Questioning How to Support Survey Researchin Hand Therapy: Development of a Standard Set of Demographic Questions
As our digital society continues to advance, the opportunities to conduct online survey research have also flourished.1 Electronic surveys are an ideal way to gather information about hand therapy practice and therapist perspectives.

Read More (members only)
*This is a short snippet from the CSHT In Hand newsletter that is published online quarterly for CSHT members. If you would like to access the full newsletters please consider becoming a member of CSHT. All newsletters are available in the member's only section.
---