Find a Hand Therapist
Member login
Upcoming Courses/Events
---
2nd Annual Hand Therapy Conference on 'Fractures,Dislocations and Instabilities'
- Nov 4-5, '16
- Bloomington, MN
---
Read more
Latest Job Posting
PT or OT Hand Specialist
Toronto, ON
---
Read more
Join CSHT
Membership fees for the Canadian Society of Hand Therapists (CSHT) are only $30.00 per year.
Our registration year runs for one year from join date.
Registration is quick and easy using our online registration form.
Join Now
Tweets by @HandTherapists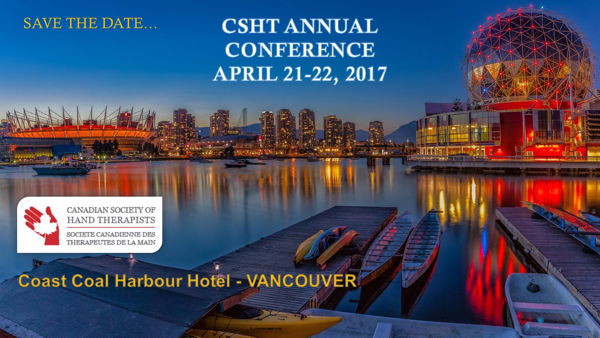 Summer 2016 In Hand Newsletter

The following is a short snippet from the CSHT In Hand newsletter that is published online quarterly for CSHT members. The snippet is from the Clinical Corner in the latest newsletter. If you would like to access the full newsletters please consider becoming a member of CSHT for $30.00/year. All newsletters are available in the member's only section. Login is required. Once logged in, select 'Newsletter' from the Member menu on the left.

Already logged in? Go there now.
Free Access to the Journal of Hand Therapy!

CSHT membership has gained an exciting new benefit... free access to the Journal of Hand Therapy! This new benefit will apply only to renewing members or new 2015-16 members. So please renew your membership today or become a new member and start enjoying access to the Journal of Hand Therapy online. Members will be emailed a journal access code once the new season membership is confirmed. Feel free to forward any questions to vicepresident@csht.org

CSHT Mission Statement Change

Members of CSHT: There has been a change to the CSHT Mission Statement. You can find a letter from the executive in the Member's Only section explaining the reason for the change.

Thank you