Member login
Latest Job Posting

Occupational Therapist
Sudbury, ON


Read more
Latest News
Summer 2015 In Hand Newsletter
Check out the Summer 2015 In Hand newsletter, now available in the Members section.
Login is required. Once logged in, select 'Newsletters' from the Member menu on the left.
Already logged in? Go there now.
Free Access to the Journal of Hand Therapy!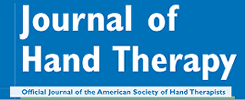 CSHT membership has gained an exciting new benefit... free access to the Journal of Hand Therapy! This new benefit will apply only to renewing members or new 2015-16 members. So please renew your membership today or become a new member and start enjoying access to the Journal of Hand Therapy online. Members will be emailed a journal access code once the new season membership is confirmed. Feel free to forward any questions to vicepresident@csht.org
Survey About Intimate Partner Violence
Dear CSHT members,
You are being invited to participate in a survey about intimate partner violence conducted by a team at McMaster University. This study has been approved by Hamilton Integrated Research Ethics Board, as well as the Research Division of ASHT and the executive committee of CSHT. The purpose of this research is to inform educational programming for our professional societies to support responsive and comprehensive care for the victims of intimate partner violence.
Below you will find a link to the anonymous electronic survey.
http://painplussurveys.mcmaster.ca/index.php?sid=58549&lang=en
CAOT & CSHT: Partners in Learning...
CSHT is pleased to annouce a new partnership with CAOT. CSHT members can enjoy receiving the CAOT members rate at the upcoming CAOT conference. We encourage our members to take advantage of this opportunity. Check out the exciting conference details and registration at: http://www.caot.ca/default.asp?pageid=15
"Lend a Hand": Q & A section for the Newsletter
As a CSHT member, you can now send your clinical questions for the newsletter or answers for the questions published in the newsletter to communications@csht.org
Conference Registration Now Open
2015 Annual CSHT Conference will be hosted at the Hyatt Regency Hotel in Montreal, Quebec on May 22/23, 2015
CSHT Mission Statement Change
Members of CSHT: There has been a change to the CSHT Mission Statement. You can find a letter from the executive in the Member's Only section explaining the reason for the change.
Member Documents Available
Please login to find the following documents: CSHT Annual Report 2012-2013, CSHT Cash Report.
Already logged in? Go there now.
Find A Hand Therapist
Please try out our new Find A Hand Therapist feature in the Members area. Login is required. Search by province or city to find a hand therapist in Canada. If you're a CSHT member and you're already logged in you can go there now.
CSHT Delegate for IFSHT
Thank you to CSHT member Marie Eason Klatt as she has agreed to be the CSHT delegate for IFSHT! We would like to thank Wendy Tilley for her time and involvement as the past delegate for IFSHT.
Social Media Volunteer Position Filled
Thank you to CSHT member, Kyle Lee, for volunteering to be administrator of CSHT Facebook Page and Twitter account. Watch for his posts and tweets!
Please update your profile!
If you are a CSHT member, please log in and ensure your profile is updated. Among other benefits, this will ensure we are sending CSHT related information to the correct address for you.
Already logged in? Go there now and click on the 'Edit Profile' link.
CAOT hOT Topic
CAOT has posted a new hOT Topic resource sheet on orthotics. hOT Topic resource sheets provide occupational therapists and occupational therapy students with background information and a list of references in an area identified as emerging and/or topical by CAOT members. Login is required. Once logged in, select 'Documents' from the Member menu on the left.
Already logged in? Go there now.
IFSHT Canadian Delegate Position Open
We are looking for a member of CSHT to be the International Federation of Societies of Hand Therapy (IFSHT) Canadian Delegate. Please see the included link for the job description of this role. Please email any of the executive members if you wish to be the IFSHT Canadian Delegate! Thank you!
Policy & Procedure Documents
New policy documents are now available to members; Executive Member Expense Reimbursement, Conference Chair Reimbursement, and Corporate Advertising Policy & Procedure. Login is required. Once logged in, select 'Policies & Bylaws' from the Member menu on the left.
Already logged in? Go there now.
Employment Opportunities
Please see the Employment page for information on current opportunities in hand therapy. (...more)
e-News for Somatosensory Rehabilitation
Please find the e-News for Somatosensory Rehabilitation here.